Our notions wall contains the newest PLUS the proven Quilting notions that you need.

We carry the books and patterns that you are seeing in the latest magazines!

If we don't have it, we will special order it for you! Just ask anyone on our staff!


Notions / Books / Patterns :

This page was last updated: 10/27/2016
We specialize in those beautiful 1930's Reproduction Fabrics

PLUS we have the full line of  Fossil Fern from Benartex. A selection of batiks and fabulous color wall. 

We have novelties, wide backings, Border Stripes and tons of Bright colorful Fabrics!

We will help you combine yours PLUS ours to get you just the look that you want!

Looking for a fabric? Click below to search thousands of independent fabric shops: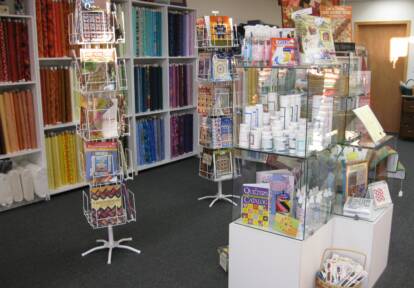 Auntie's Attic Quilt Shop

"For All of your Quilting Needs"

Will ship product anywhere in the WORLD,

Looking for a gift? We offer Gift Certificates Available in any amount! And will be happy to send it for you!